SIXTEEN - original 2016 series
'Sixteen' is a group project I am leading with 14 fellow photographers looking at the experience of sixteen year olds all around the UK.
The project evolved from my earlier work 'The Scottish Referendum Project' and aims to give a platform for young people from all walks of life to express their aspirations, hopes, dreams and fears for their futures.
These pictures are the first portraits I made to start the project in 2016, my other work can be seen in the sections titled: Sixteen, The North and Sixteen, The Scottish Islands which includes a behind-the-scenes film that Rob Brady and I made in the Western Isles.
It has been a privilege to work, collaborate, share and learn from great friends and colleagues on this project. A dedicated website showing my work and the work of my colleagues can be found at www.sixteentouring.co.uk
Thanks
Craig
Copy of English translation of Arshia's original Farsi text
Hello, My name is Arsheia Ghorbani and I was born in 01.02.2000. That means that I am 16 years old now.
I'm happy person normally but sometimes I can get angry as well.
The only thing that I do cheerfully and lovingly is football. I started playing football with an adult team since I was 8 years old which made me good progress in football.
I have a lot of plans and dreams, too many!!
I like go to school and learning. I really enjoyed of my school and it's lovely staff and never want to leave the school.
I know that all people can't reach they dreams. It is difficult and hard work to access my dreams. To be a surgeon doctor is one of my main aims.
I am good at learning and understanding in school. My first language is one of my main barriers between me and my dreams. It is now just 3 years that I am living in UK, but even now I can't understand some of the written words; on the other hand I can speak English very well.
One of my other problems is that we can't go on holiday, we are not allowed to travel, we can't buy a car even if we had the money, as my Dad is not allowed to get a licence, and we don't have permission for work. That all means we can't make any decision for our future because we are asylum seekers.
That all makes a teenage boy like me to be in desperation and stressful which is not good at my age.
Unfortunately I can't go to university because I am asylum seeker.
I know it's not the UK government fault, but if we think I had potential to be a doctor in future and I could save hundreds of humans lives. I like to help people and made smile on their face who poor and need help. That is the thing other people do for me when I was in need.
An way I keep going on with the hope and the stress. I don't let any problem keep me away from my dreams.
I can't and don't want to make blame on my family or anyone for the situation I have.
You must know that nothing is reached easily in the life and you must try hard. If it was easy everyone would be happy and joyful.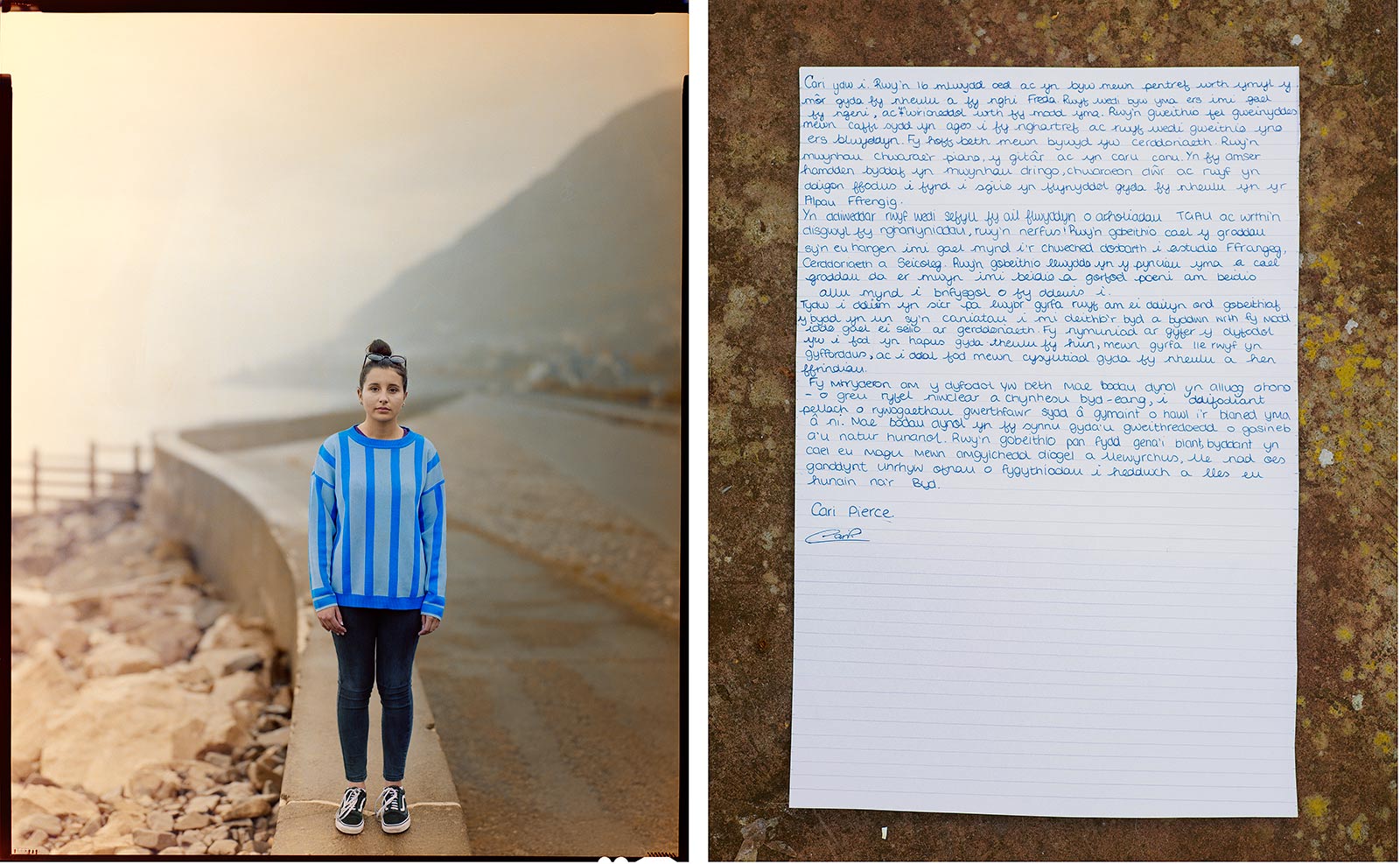 Copy of English translation of Cari's original Welsh text
My name is Cari and I'm 16 years old. I live in a seaside village in North Wales with my brother Zac, my parents and my pet dog Freda. I've lived here ever since I was born and I truly love it here. I work as a waitress in a cafe near my home and have done so for a year. My favourite thing in life is music: I enjoy playing piano, guitar and I love to sing. In my spare time I like to climb, surf and stand-up paddle board, and in the winter I am lucky enough to go skiing almost every year in the French Alps with my family.
I have recently sat my second year of GCSE exams and am awaiting my results which I am highly nervous for. I hope that I get the grades that are required for me to get into sixth form in order for me to be able to study French, Music and Psychology. I then hope to succeed in these subjects so that when it comes to choosing a university, I won't have to worry about my grades not being of a high enough standard. I'm unsure of which career path I would like to pursue, but I hope that it will be one that will allow me to travel and I would love for it to be musically based.
My wish for the future is to be happy with a family of my own, pursuing a career in which I am content, and to still be in contact with my family and friends.
My fear for the world in the future is human beings and what we are capable of. From nuclear war and global warming to the further extinction of precious species that have just as much right to the planet as we have: human beings never fail to surprise me with the various and increasing acts of hatred. I hope that when I have children they will be brought up in a safe and flourishing environment, in which they have no fears of threats to the world's peace and wellbeing.